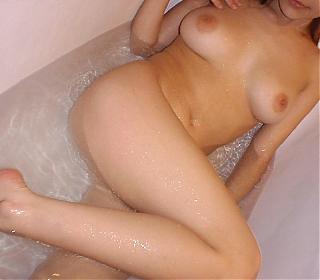 At this point my wife had been with the doctor from the hospital several times but only once with my best friend Rick. I really preferred her being with Rick because I would be there to watch it in person and tape it to watch over and over later on. I was eager to set it up again and finally had Rick come to the house to watch a movie one night.

Cindy and I were about to married and had purchased a small home. It was quite barren except for our entertainment center and bedroom sets. When Rick came over, we had to watch the movie while lying on the floor. To this day I still remember her wearing green soft cotton pants and a white short sleeve shirt.

There we were, the three of us, lying side by side with Cindy in the middle. The movie ran and the tension was high. Rick wouldnít make a move on her for some reason and I kept leaving and coming back wondering if maybe he wanted alone time. The movie was almost over and I finally left the room for about 10 minutes; still nothing.

When I got back I laid next to Cindy and began to kiss her. That is all it took for Rick to scoot over and lift up her shirt and begin sucking on her breast. The fact she didnít have a bra was a bit of a turn on because she never goes out or has company without underwear. The minute he started to touch her and nibble on her nipples she began softly moaning as I continued to kiss her.

Rick moved quickly to pull off her cotton pants to find that she also wasnít wearing panties. Her legs parted quickly and Rick positioned himself flat on the floor with his head buried deep into her thighs. She stopped kissing me and rolled her head back with eyes shut tight. She was enjoying it.

I lifted her shirt exposing both breasts and began to lick and suck each one as I looked down her body, watching Rick lick her with changing rhythms. I was getting so turned on I reached down and rubbed my cock through my shorts. It was amazing to watch another man go down on her. Just the thought that not long ago she was such a conservative made the situation all the more exciting.

As her breathing got heavier, I stood up and ran to the den and got my camcorder. I simply reached the end of the hallway and began to record them without getting too close. For some reason it was the voyeur part of the whole thing that I loved even more. It actually on this occasion that I realized I would love to find my wife having an affair without me knowing and catching her in the act.

Rick had already turned her over on her knees, her head pressed against the rug with a sexy arch in her back. His hands gripped both sides of her thighs as he thrust in and out as she let out little grunts. Maybe a little pleasure and pain since she was still not used to his thicker size. She also commented that his wearing a condom felt uncomfortable as he had also mentioned that he lost some sensation. Unfortunately this was our Ďrulesí when it came to being with other men and they both followed them.

The other rule which we came up with after the first time was that they not kiss passionately. For some reason that just felt a little too personal. I canít really explain it other than it was hot when I witnessed it but bothered me afterwards. She understood and agreed to not let it happen. This time around he never really got the chance so it never happened.

Anyways, it wasnít as long as our first encounter before Rick pulled out, ripped off the condom, and exploded on her back. It even reached her dark hair and looked incredible just glistening there. Rick did the typical porn move by slapping his cock on her ass as he continued to cum and I have to admit I was jealous that I wasnít as well endowed to be able to do the same thing and look so good doing it. Oh well.

Turns out that she didnít have an orgasm this time because it was a bit painful for her but she kept insisting that night in bed how much she enjoyed it. The very next day she asked me if I had spoken to Rick and if he had said anything. I started realizing she was very concerned if Rick was turned on by her and what he thought of her performance. I would end up using this very fact in later encounters and would ultimately pay the price.

Rick left shortly after as he had the night shift as a prison guard. He changed into his uniform and made sure to fondle Cindy a bit as he said goodbye.
READ ALL OF MY CUCKOLD ENTRIES