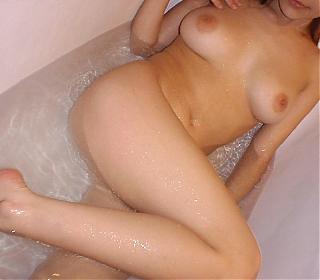 Rick left town for 3 weeks before we saw him again. Every time he called she would ask me if he said anything about her and I would say no (which was a lie but Rick told me to say it). Actually, Rick and I talked about her all the time. She was going crazy and asking me if he already had a girlfriend or why he wouldnít say anything.

Another friend of mine was getting married on two weeks and they decided to have a half separate and half joint bachelor party. For the first have the girls and guys would do their own thing and then everyone would meet up at Hooters and go on from there. We hit a couple of strip clubs and the girls had their fun. When we got to Hooters, the girls were already there and Iím pretty sure they had more fun because they were screaming and drinking quite a bit.

The rest of the night was a ton of fun and when it came time to leave, Cindy and a couple of the girls were going to spend the night over the brideís home and Rick was going to drop me off at home. We all said our goodbyes and we left. Rick drove to my house where he had his car and as a good friend he didnít let me drive being as buzzed as I was. When I got in I called Cindy and told her I was home and she had just gotten to their place. We said our goodnights and hung up. The next day she came home before I even woke up and we caught each other up on what had happened but it wasnít very exciting.

I had racquetball that afternoon with Rick and when I went to his place to pick him up he took out a pair of ripped panties and asked, ďGuess Whose?Ē I was thinking it was one of the girls he was flirting with last night and then he told me they were Cindyís. Stunned is an understatement. He couldnít talk fast enough to get me to calm down.

Turns out that after he dropped me off, he called Cindy and told her to come to his place. She had said she couldnít but he insisted and told her he would come pick her up if she didnít. She said she couldnít drive cause she had too many beers. They hung up and then he called her again saying he was outside. She came outside and talked to him through the window saying she couldnít cause all the girls were drinking inside and she couldnít leave her friends. He convinced her to at least to talk to him in the car but she kept saying she had to go or they might think something so he asked her what she told them she was coming out to do.

Her lie was that Rick had a set of keys he had forgot to give me and I wasnít answering the phone.

Ok, picture this. Cindy is in his car wearing only a long t-shirt and a pair of panties. Rick said you could totally see how excited her nipples were and he couldnít help himself. He reached over to kiss her which she let him do (I am convinced he is more aggressive when Iím not around and she lets him). Then he started to rub her panties and she was enjoying it but kept telling him she had to go. He said he pulled her towards him making her slump in the chair a bit and ripped her panties off one leg. She got startled and actually let out a nervous scream. He then went ahead and pulled off the remaining part off her leg by sliding it off and threw it in the back seat.

He then pulled his pants down and told her as she just watched him to start sucking his cock and to not stop until they got to his place. She sat up, leaned over, and didnít say another word. She sucked his cock the entire way and he would tell her to stop whenever he was close to cumming.

When they got to his place, they made out on the outside of his door for a while and she went back down on him. He ended up cumming right there and they went inside. She sat on his couch like a stunned bird not making a sound and looking everywhere.

He stood her up, took off her shirt and had sex the entire night in several places; the couch, the bedroom, the shower. He came a total of 4 times and said he was so exhausted because he tried to last so long each time he almost passed out.

I donít remember all the positions and stuff but I do remember that he did slap her ass a lot, pull her hair, and had her talk a little dirty which she never does. He even said he made her swear she would never tell me that it happened and she didnít. That is what made that night so awesome.
READ ALL OF MY CUCKOLD ENTRIES