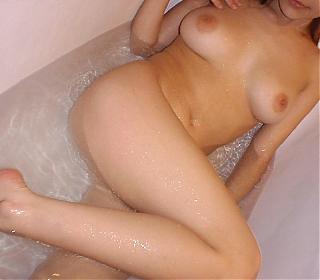 Now it was time for our bachelor party and Cindy kept insisting that she wanted to do it co-ed with all of our friends which was fine for me. I wasn't a big strip club guy so I didn't really care if we went or not. It ended up being about 20 of our closest friends and a night out on the beach walking, stopping at bars, and having fun. At this point we had just finished having our last night with Rick about a week ago and with Cindy's request to not do anything else after the wedding, I felt it would be our last. Our wedding was only a week away and we had NO time left for anything.

I did see Rick reach under her dress during one of our group photos. They were in the back, Cindy between both of us, and when I looked over I saw him squeeze her ass under the dress but it wasn't anything outrageous. I kept trying to spot other events but the only thing they did was talk here and there.

When it was all over, Rick dropped off Cindy's sisters at home, then Cindy (I was staying with my family since it was always her tradition that the bride and groom stay apart a week before the wedding), and finally me. Rick and his brother hung out with me for one last shot of whiskey and we talked about all the old highschool days and memories. It was pretty cool but I was really tired and they had a long drive.

That night, turns out Rick drove back to my house and rang the doorbell for about 10 minutes until Cindy answered. She had already fallen dead asleep and answered the door in my favorite Victoria secret white shorts and t-top (with the word 'ANGEL' on the front. She woke up a bit more when she saw Rick with his brother (we'll call Dave) thinking something bad happened. Rick just said they had a last drink with me and wanted to do the same thing with her to make it a perfect ending to a fun night. She just looked at them like 'are you serious' and then said drinking is what got her to where she was now.

I know that when we dropped her off, I had to help her unlock the door, so I knew she was pretty bad. She is a light weight when it comes to alcohol since she rarely drinks it. Lately there has been quite a few parties but in reality she is a very occasional drinker.

They went in and sat on the couch as Rick poured a three small glasses of Amaretto , her favorite. He says he wasn't even aware of the time when he looked up and saw it was almost 4 am and they had finished half the bottle of Amaretto. His brother was already falling asleep on and off and Cindy wasn't too far behind. He stood up and told her that they will leave and let her sleep and she nodded. He picked up the bottle and glassed and took them to the kitchen. He came back to find his brother asleep on one sofa and her asleep on the other.

He tapped her to wake her up and he helped her by pulling her up off the couch. He pointed to his brother and she laughed. Then he went in to give her a good night kiss and it was a bit longer than he anticipated. The next thing he knew, he was making out with her and both of their hands were all over each other.

Rick kept saying he really wasn't planning on anything happening since it was 'over' and especially with his brother coming over. I actually believe him.

Rick started to pull off her shorts and she whispered to him a couple of times, 'what about your brother?' He didn't even respond as he stuck his fingers inside of her and her legs just parted. He lifted up her shirt and started to suck on her tits while she was trying to unbuckle his pants. Rick did mention that she was trying so hard to be quiet but she kept letting out a loud moan once in a while.

Once his pants fell off, she got on her knees and gave him a blowjob. He was so woozy that he just sat back onto the couch and she moved in between his legs to continue. When he looked over he saw his brother was watching the whole thing and from what he told me, it wasn't the first time they watched each other with a girl.

Rick stood up and pulled Cindy back up. He took off his shirt and they started to make out and he slowly walked her into the bedroom. Rick stood by the bed and kept fingering her and her moans got louder and louder. Then rick saw his brother stand by the door. He kissed Cindy and pushed her to the bed and bent her over.

Once again Rick was fucking her from behind, no condom anywhere. He motioned for his brother to come over and as Rick continued to fuck her, his brother took off his clothes and then moved into position as Rick pulled out and stepped back.

Dave stuck his cock into my soon to be wife and went at it. Rick says Cindy never knew it was someone else until Dave said, Damn Rick, You are right she is a good fuck!". Cindy turned around and Dave kept a strong grip on her waist and fucked her even harder. Rick said Cindy screamed bit when he was being rougher and just put her head into the covers. She never said anything. I couldn't believe it.

Dave and Rick made comments about what a great fuck and good little slut she was as they took turns from behind. They told me that they would ask her things like, "you like being fucked by my brother, don't you?", and "you want more?". They would be slamming her harder and faster until she answered.

Then Rick came INSIDE OF HER. He said he knew she was back on the pill but I got a little scared thinking that isn't the safest thing but once again, I was also turned on by it. Then I asked Rick if he had said what I asked him to say which was to get her to admit she likes being fucked by him more than me. He said he felt a bit like a bad friend but he did and then he liked asking her it over and over. She always said yes to any thing he asked about that. I wished I was there to hear it.

After Rick finished, he said his brother pushed her up on the bed and turned her over. He fucked her the rest of the time with her legs over his shoulders and moaning loudly. Dave kept saying how he wanted to fuck her again and that she kept saying she wanted him too. At this point I was hoping it was true.

Dave pulled out and came on her chest.

All three lay together for a while and then dozed off to sleep. It was sometime when the sun pierced the window that Dave and Rick both woke up before Cindy. They pulled the sheets off of her exposing her ass and Dave got off the bed and pulled up between her legs, spread her cheeks, and began to lick her ass. Apparently, both brothers are the same. Cindy woke up slowly by moaning as he was fingering her and licking at the same time. Dave pulled her onto her knees and Rick laid across in front of her so she could give him a blowjob. Dave kept eating her out from behind until he knelt up and actually tried to stick it in her ass. Rick said they tried a couple of times but not even alcohol worked since the time he did get to get in her ass.

They took turns again, took a shower together, and left. She never even left the bed to say goodbye from how exhausted she was. And to think I wasn't going to see her for almost a week.
READ ALL OF MY CUCKOLD ENTRIES